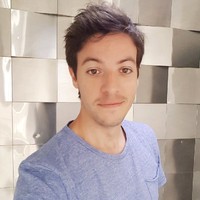 Salut, comme vous avez dû vous en apercevoir je suis ingénieur du Son.
Nom basco béarnais, voit le jour et grandit en Essonne, adolescence girondine audengeoise, études audiovisuelles picardes, travaille sur Paris.
Musicien, j'ai fait mes premières expériences sonores en orchestre, puis dans une radio régionale.
Après plusieurs expériences et mon BAC en poche une formation a tout de même été la bienvenue: BTS audiovisuel option Son.
Suite à quelques stages enrichissants j'ai commencé mon travail dans un studio d'enregistrement. Très bonne école pour mettre en pratique ce qu'on a appris pendant deux ans de BTS. L'occasion de voir plusieurs milieux en un endroit : voice-over, doublage, publicités, discours de philosophie, suite expérimentale, et aussi musique avec maquette, album et podcast.
Presque tous les jours on apprend, on s'adapte, on écoute, et l'esprit d'une petite entreprise en développement est très porteur.
J'ai eu la chance de travailler sur des programmes intéressants pour des diffuseurs reconnus.
Aujourd'hui, fort de mon expérience, je suis freelance depuis 7 ans suite à ma volonté de me diversifier sur le plan sonore.
Pour plus d'infos je serais heureux de répondre à vos questions, référez vous à la rubrique contacts.
Geoffroy
Hi, as you must have noticed I am engineer of Sound.
Bearn Basque name, born and raised in Essonne, teens in Gironde, Audiovisual Studies in Picardy, works on Paris.
Musician, I make my first sound experiences in orchestra and in a regional radio.
After several experiments and my BAC in pocket training has still been welcome: BTS audiovisual sound option.
Following some rewarding internship I started my work in a recording studio. Very good school to practice what is learned during two years of BTS. The opportunity to see several environments in one place Comments voice-over, dubbing, advertising, speech of philosophy, experimental result, and also music with artwork, album and podcast.
Almost every day we learn, we adapt, we listen, and the mind of a small business development is very promising.
I had the opportunity to work on interesting programmes and recognized broadcasters.
Today, with my experience, I'm freelance for 7 years following my desire to  diversify me sonically.
For more info I would be happy to answer your questions, refer to the section contact.
Geoffroy